Audio Visual Equipment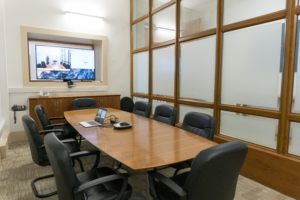 Controls:
Push button controls on wall next to display
(more information)
Projector(s):
none
TV(s):
1 x standing
Computer:
No
Laptop Connection(s):
Yes – HDMI, VGA (with 3.5mm audio) in centre of meeting table
(more information)
Document Camera (Visualiser):
No
Microphone(s):
One "room microphone" for use with video conferencing facilities
(more information)
Lecture Capture
NONE
See suitable rooms or our information on Lecture Capture.
Video Conferencing
This room is equipped with a plug and play video calling system, meaning that it can be used with a laptop to provide video calling facilities such as Skype for Business or Google Hangouts.
See Video Conferencing for further information. Please note, a laptop is not installed in this room as standard, however, you can request a laptop loan for use in this room.
General Room Information
Network Connectivity:
Wireless (WiFi) – full coverage throughout room (more information)
Wired (Ethernet) – available at centre of meeting table only
Electric Blinds:
None
Phone No:
+353 1 716 TBC / Extension: TBC
Capacity:
10
Room Style:
Meeting Room
Gallery
Further Information
For room bookings, please email services.blackrock@ucd.ie.