We support and maintain audio visual facilities in Blackrock campus open areas, meeting rooms, study/huddle spaces as well as Smurfit Executive Development facilities.
Please note: The following classrooms in the Smurfit School are part of the University Shared Teaching Spaces Portfolio and so are under the remit of UCD Estate Services for Audio Visual Support and Maintenance, etc:
C201, C301, C302, D101, E101, E102, E117, E201, N111/LT1, N202, N203, N204, N302, N303, N304, Oratory.
All other audio visual facilities on the Blackrock campus are managed by ILTG.
Please see https://iltg.ucd.ie/audio-visual-services/ for more information.
Audio Visual Equipment Locations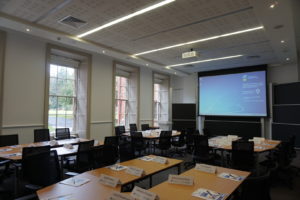 Our main focus in this area is on audio visual equipment in our meeting/group work rooms and Smurfit Executive Development. Often, it is helpful to understand the specifics of a room before using it; What equipment does it have? What shape is it? To help provide this information in a uniform and easy to access manner, this list shows all of our audio visual equipped spaces on campus.
We have a work programme which keeps all of our audio visual equipment in good working order at all times. If you have used one of our rooms, and found any issues, please Contact Us to report it. Alternatively, if you would like to offer feedback, it is always gratefully received.
Audio Visual Support
We provide an extensive audio visual support service as a function of our Help Desk service. Click here to see details of our coverage.
Video Conferencing
We can offer several options for Video Conferencing, please see our dedicated section on Video Conferencing to find out which approach, equipment or physical space will best meet your needs.
Eolas (Digital Signage)
Eolas is our digital signage service across the Blackrock campus. For more information please see our dedicated Eolas information, including how you can have your own content added.