Laptop Connections
In our classrooms, meeting rooms and other audio visual equipped locations, there are varying options for connecting your laptop to projectors and monitors, allowing us to accommodate a wide variety of devices.
Connection Types
For Picture
VGA or HDMI are the two most common connection types, and many of our rooms offer both. Please check the listing for your specific room to see which connections are available.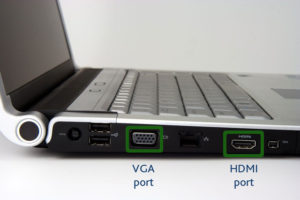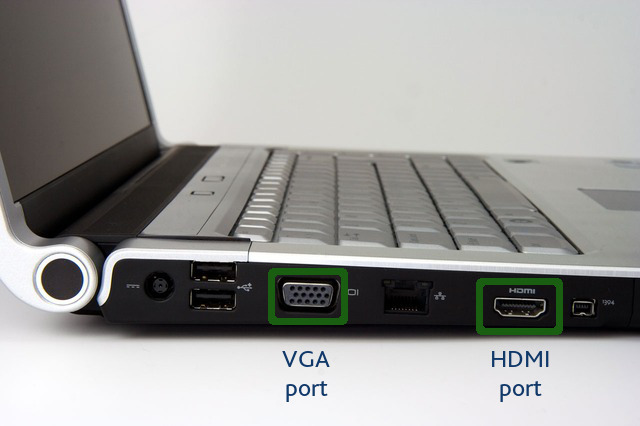 You should connect your laptop using one of the cables available on the lectern or table and choose the appropriate input on the room controls (where there is more than one choice). Find out more about our room controls.
Other Connections
Some newer laptops, particularly any Apple MacBook or MacBook Pro, don't have VGA or HDMI ports and an adapter is required to convert from one port to another. In these cases, most commonly, machines will have either a Thunderbolt port, Mini DisplayPort or a USB-C port.
We offer a loan service for some of the more commonly needed adapters, and you can request one from our help desk in person or using this request form. If you need an adapter on a frequent or regular basis, please purchase one for your own use or ask us for advice.
For Audio
Often, our rooms support audio over HDMI as well as picture, but some rooms do not and some devices don't output audio over their HDMI port either. If in doubt, please test your equipment in advance in the specific room or contact us for further advice.
You can play audio from almost any devices with a 3.5mm audio jack or "headphone jack".
This audio will be played if you select the laptop VGA input in a room, as the picture from the VGA connection and the audio from the 3.5mm connection are treated as a pair, but you do not have to use one to use the other. For example, you could play music from a phone over the 3.5 cable, (just like using headphones) by selecting the laptop VGA connection, but not connecting anything to the VGA cable.
How to output from your laptop
Often, simply connecting the cables while your laptop is awake and waiting will cause it to recognise the change and output a picture to the equipment in the room. Sometimes, this does not happen automatically and you will need to manually output.
On Windows, press the Windows Key and "p" together, which brings up options for outputting to a projector. Use the mouse or arrow keys to move through the choices and hit "enter" or "return" to choose your preferred options, such as "mirror" or "extend".
On a Mac, open "System Preferences", then "Displays" and choose your preferred options.
Basic Troubleshooting Steps
I don't see the same thing on my laptop as I do on the projector(s) or TV?
Often, this is due to "extend" being selected as the output type instead of "mirrored", so you are seeing a second, often blank, desktop. See How To Output above for instructions on how to mirror.
I get PowerPoint slides on both, where is presenter view?
You need to play your slideshow AFTER you have set up the connection to the projector or TV – if you start the show and then connect, PowerPoint can't adjust for the second screen after beginning the slideshow.
My screen won't show up on the projector(s) or TV or it looks odd
This is usually a problem with the resolution your laptop is sending to our equipment, specifically that is is "too high" to work well in the room. Most computers auto adjust this, but not always.
On Windows, right click on the desktop and choose "Display Settings" to see resolution options. Try lowering the resolution until you get the desired result.
On a Mac, open System Preferences, then Displays and choose your preferred options for one or both screens.