Audio Visual Equipment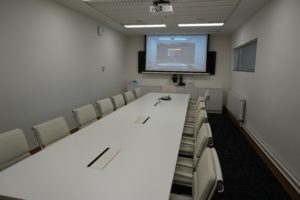 Controls:
Touch screen on credenza controls all equipment
(more information)
Projector(s):
1 x Ceiling mounted
TV(s):
2 x Wall mounted
Computer:
No
Laptop Connection(s):
Yes – HDMI, VGA (with 3.5mm audio) at "front" and "rear" of meeting table
(more information)
Document Camera (Visualiser):
No
Microphone(s):
2 x room microphones for use with the Video Conferencing system. No user interaction required.
(more information)
Lecture Capture
NONE
For suitable rooms, please see our Lecture Capture information.
Video Conferencing
This room is equipped with a video conferencing room system (1 x Audience Facing Camera, 1 x Lectern Facing Camera).
See Video Conferencing for further information or if you are already familiar with the options request a video conference in this room.
General Room Information
Network Connectivity:
Wireless (WiFi) – full coverage throughout room (more information)
Wired (Ethernet) – available at front and rear of meeting table only
Electric Blinds:
No
Phone No:
+353 1 716 8886 / Extension: 8886
Capacity:
25
Room Style:
Boardroom / Meeting Room
Gallery
Further Information
For room bookings, please email services.blackrock@ucd.ie.