Following a 9 month project, we are pleased to launch the new ILTG Website.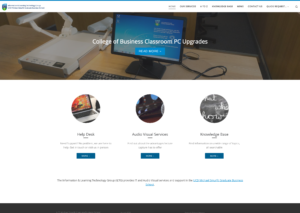 Key Features
We have created a simple A-Z list of topics we receive queries about, so you can find the correct, relevant information, even if you might not know the correct term or section to find it in.
We have expanded our collection of instructions and guides etc by about 50% and it is now searchable and categorised.
Room & Audio Visual "Directory"
Frequently, we would receive help desk queries relating to which rooms are suitable for Lecture Capture, or what types of microphones are in certain rooms. Our answer is a simple and organised listing for every audio visual space across the Blackrock campus which we manage and support. From small and basic meeting rooms to our fully equipped lecture theatres, everything has detailed listings and some reference photographs.
In addition, we have made it even easier to get to the information about a room – our "go" collection allows you to type a quick link, with the room number, and be taken directly to the information page about that room. All you need is the room number. For example, to find out about room N202, you can go straight to iltg.ucd.ie/go/n202 and to find out about E201, you can go to iltg.ucd.ie/go/e201. You can substitute the room number for any we have listed.
Quick Requests
We know that the most used feature on our site has been (and will likely continue to be) our request forms, which feed directly into our help desk software.
So, to make sure visitors can still get to these forms quickly, we've added a dedicated menu on our home page – see the main menu to find it (top right on desktop, or drop down the menu on mobile).
What's next?
It goes without saying that we will be reviewing the website on an ongoing basis, and would welcome feedback now and in the future. We're also going to keep adding to our knowledge base and will further enhance that content with supplementary video content using our Lecture Capture facilities.
Some of the specifics of the project are detailed below for those interested.
Background
In August 2017, we identified some key objectives for a new website, namely:
Organised collection of service request forms

We wanted to have these forms readily accessible, more dynamic and updatable

Central, searchable and structured set of user information

We noted that we could solve many queries with repeatable information, instructions or guides but this information wasn't collected or collated

Where, what, how to use information for AV around campus

One of the most popular question categories we received was around AV facilities in rooms.
To simply satisfy these objectives, we followed three main ingredients:
Categorised information

A logical and structured approach to general information on the site and how it is organised.

Knowledge Base

A dedicated information set which specifically relates to instructions, guides, workarounds, solutions etc.

Uniformity to listing of AV locations – classrooms, meeting rooms etc

We have created a "directory" of all the audio visual spaces around campus, viewable by physical location, equipment type or room type with information about what is in them, how they work and pictures of the rooms.